Azul Beach is an intimate, family friendly and all-inclusive hotel on the Riviera Maya in Puerto Morelos, Mexico (about 20 minutes south of Cancun). Accommodations are just a few steps from the beach, and the nicely-appointed rooms have all of the amenities, including air conditioning, satellite TV,

and a mini bar stocked daily.
Inclusive features include all gourmet meals and snacks, premium alcoholic and non-alcoholic drinks and juices, day and night activities, kids' center, non-motorized watersports, scuba clinics in the pool, nightly entertainment, beach butlers, concierge, champagne check-in, and all taxes and gratuities. See here for rates.
Vickie Griffith is assisting us as our planner and travel agent. She welcomes your questions and can help arrange travel and accommodations. You can reach her by email at or by phone at 1.281.744.2989 or 1.877.372.LOVE.

The region around Puerto Morelos and the Azul Beach is rich with Mayan ruins (Chich'en Itzá, Uxmal and nearby Tulum and Cobá), snorkeling and diving opportunities Mérida and smaller hamlets like Puerto Morelos itself).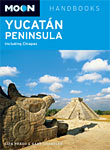 (including an area reputed to one of the best-preserved reefs in the area, right off Puerto Morelos), nature preserves, and cities and towns of every kind (ranging from touristy Cancún to colonial Mérida). To help plan your indendent adventures, we suggest the Moon Handbooks Yucatán Peninsula guide book (left). It's a treasure trove of information on sights and activities, with details on in-country travel and suggestions for accommodations and dining.
We are currently planning a group excursion to Chich'en Itzá on July 6. If you're still in the area and would like to go, you can get more information and a sign-up form on the Field Trips page.
Airport Transfers and Activities… If you are staying at the Azul Beach, you can make airport transfer reservations and arrange for tours and other activities at the Lomas Travel web site. If you made travel arrangements through our planner, Vickie, you should already have transfers in your travel packet.
Mobile Phones… Verizon, AT&T and T-Mobile all support international roaming for voice and texting in Mexico. You may need to activate international roaming for your service. Check with your carrier for details.
Registering with the State Department… Our friend at the State Department (hi, Ed!) has been reminding us that Americans traveling abroad should register with the US Embassy or Consulate in the visited country.
You can do this at the State Department web site.
Sustainable Travel… Air travel has a cost beyond the dollar amounts that we pay for our tickets. As the issue of climate change becomes ever more critical, the greenhouse gas emissions (such as CO2) from jet engines add a significant incremental negative to an already troubling situation. For example, Karina and I will cause about 1.07 metric tons of CO2 to be released as our share of the roundtrip flight from Houston to Cancun. That's the equivalent of 3000 miles of driving.
Fortunately, it's possible to mitigate these costs by contributing to environmental programs that help offset the CO2 release. For example, Continental (our carrier for this trip), allows passengers to voluntarily give to independent projects that encourage reforestation, forest protection and renewable energy development. If your airline doesn't offer a program, you can go directly to Sustainable Travel International (the organization which works with Continental) to compute your trip's carbon footprint and to contribute toward mitigating offsets.