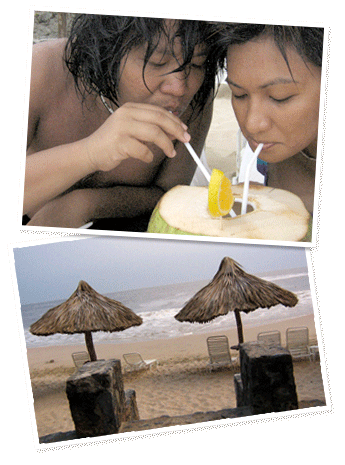 We will be getting married this fourth of July, and we would be honored if you would join us to witness our vows. We wanted to share this event with our friends and families, and we chose a special place for our ceremony — we'll be saying "I do" as the sun sets on the beach in Puerto Morelos, Mexico!
Formal invitations are already on the way, but if you're able to come, book your room at the Azul Beach hotel (near Cancun) from July 2 through July 6 as soon as possible, since space is very limited. Naturally, you're welcome to shorten or extend your stay (see the Travel Info page for more about accommodations). The venue is a family-friendly boutique resort (96 rooms, all inclusive) in an enticing setting of white sand, blue water and cooling ocean breezes.
Many have asked us about suggestions on attire, our wedding registry and things to do in the area after the wedding. We're still working on the latter two items, and we'll be posting information here soon. As for what to wear, click on the Beach Chic button below for our thoughts.
We're looking forward to sharing our day and enjoying some time in the sunshine with you. Let us know if you can make it — we hope you can come! Send us a note when you have a chance, and please include your postal mail and email addresses.