Beach Chic: Thoughts on Attire
Wedding attire is usually a straightforward affair — what's the time of day, what are the colors, how formal is it?
But if you're like me, a beach wedding is sort of a new thing, and questions on wardrobe suddenly become much more complicated: Shorts, slacks or swim trunks? Tuxedo or t-shirt? Heels or barefoot? The range of possibilities is so broad.
I'll start off with the basics and then make a few suggestions that (I hope) will make it simpler…
Location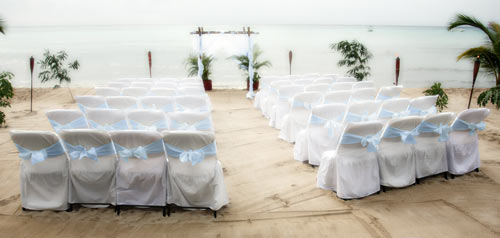 As you've probably surmised from other pages on this site, both the wedding ceremony and the reception will be held outdoors, on the sand of the beach itself, starting about an hour or two before sunset. The average high temperature in July is 90° F (32° C), sunny (knock on wood!) and somewhat humid (around 80%), though the late afternoon start and the ocean breezes should temper the heat a bit. For those coming from Houston or other tropical climes, no sweat — that weather sounds way nicer than what we're already getting here in Texas in June!
Okay, So What Should I Wear?
To put it simply, wear something nice but still comfy for the beach and its warm weather — dresses, shirts and slacks in light materials like linen, cottons and chiffons. As examples, I'll include a couple of photos here from the wedding celebration of our friends and beach-wedding role models, Marj and Den.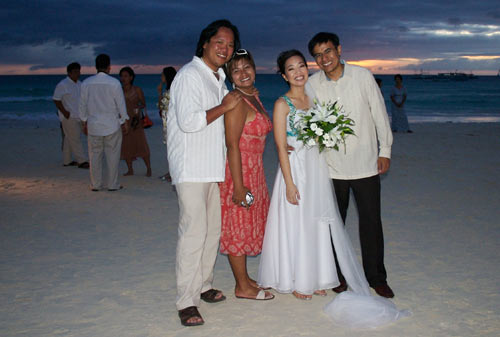 Ties and jackets are just too hot, so don't worry about wearing those. Heels would be difficult in the sand, so flats and sandals would be a better bet (especially those which are easy to kick off for dancing barefoot in the sand!). For those inclined to wear a barong, feel free to do so, but again the weather would suggest the linen-ramie or jusi-piña varieties.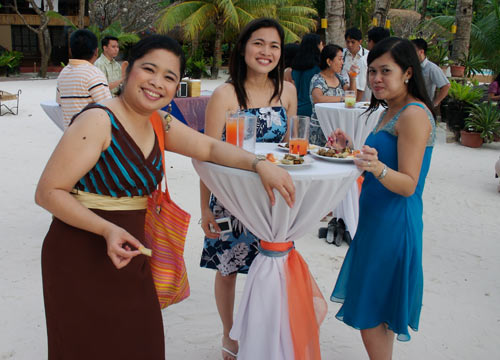 And for those inclined to color coordinate, our official color is Pantone 278U. Light colors, white and naturals are good choices too!