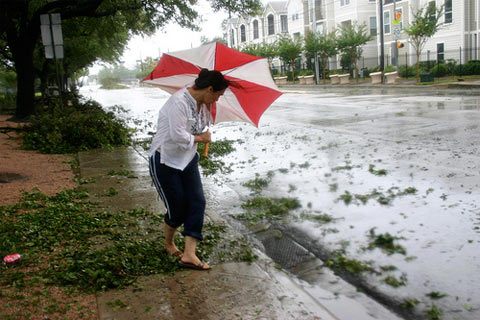 A woman fights high winds and rain in Midtown Houston.
As Hurricane Ike's storms began to subside, a few hardy and curious people in the neighborhood began wandering out of their sheltering homes to survey the area. We found streets submerged by the downpours, mature trees snapped or uprooted (along with their smaller brethren), and debris ranging from roof shingles to mangled billboards strewn about where they were flung by Ike's 100mph winds.
Some checked their homes for damage, others began the cleanup by clearing clogged storm drains. Many picked up their routines where they left off, walking their dogs to the park despite the chaos and floods. One experience was shared in common — every one of us looked with some wonder at the artifacts of Ike's devastating power, whether with awestruck eyes or the voracious lenses of digital cameras (or in my case, both).
See more photos from the neighborhood in the immediate aftermath here.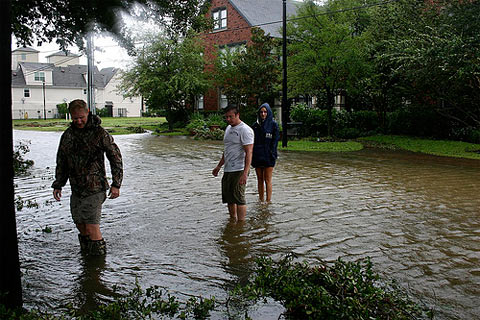 Neighbors work to clear storm drains on the flooded streets of Midtown Houston immediately after Ike's passage.